Are you planning to buy a dog or a puppy in your budget and want to know the price of different breeds of dog?
Then you are in the right place.
The popularity of dogs in India is increasing rapidly and many youngsters are very keen about getting a pet.
So that's why we are sharing the price list of various dog breeds in different price ranges starting with the cheapest ones
And you can choose the one which is best for you and in your budget.
The price of dogs varies according to the breed's availability and popularity.
But before we get into that, if you're really into getting a dog then you could consider adopting one.
Because it is hard to find breeders who follow ethical practice and not exploit female dogs by forcing them to give births for just for business.
There are numerous cute dogs out there that desperately need a home and the best thing about this is that you don't have to spend any money.
Dog Price List In India (2020)
| | |
| --- | --- |
| Dog Breeds | Price In India ( ₹ ) |
| Indian Spitz | ₹ 4000 – ₹8000 |
| Pomeranian | ₹ 3000 – ₹7000 |
| Labrador | ₹ 5000 – ₹7000 |
| Rajapalayam | ₹ 6000- ₹8000 |
| Dachshund | ₹ 8000 – ₹10,000 |
| Great Dean | ₹ 7000 – ₹15,000 |
| Caravan Hound | ₹8,ooo – ₹12,000 |
| Rottweiler | ₹7000 – ₹ 18,000 |
| Dalmatian | ₹21,000 – ₹27,000 |
| Golden Retriever | ₹15,000 – ₹20,000 |
| Pug | ₹20,000 – ₹25,000 |
| Beagle | ₹18,000 – ₹20,000 |
| German Shepherd | ₹25,000 – ₹80,000 |
| Shih Tzu | ₹22,000 – ₹25,000 |
| English Cocker Spaniel | ₹14,000 – ₹20,000 |
| Pitbull | ₹20,000 – ₹80,000 |
| Poodle | ₹40,000 – ₹80,000 |
| Maltese Dog | ₹50,000 – ₹60,000 |
| Tibetian Mastiff | ₹40,000- ₹ 60,000 |
| Akita Inu | ₹2,000,00- ₹4,00,000 |
| Shiba Inu | ₹2,500,00- ₹5,00,000 |
| Samoyed | ₹3,000,00- ₹6,00,000 |
Dogs Price In India List (Price Range ₹3000-₹15,000 INR)
If you have a really tight budget and can't spend more than 10k then these are the best for you.
1. Indian Spitz
Indian Spitz is an Indian breed dog and it is one of the cheapest dogs available.
You can get an Indian Spitz puppy in around 4000 INR or in some cases even cheaper.
Basically, any Indian breed is cheaper than the foreign ones, Indian Breeds are not only cheap in price but also very low maintenance.
And Indian Spitz is no exception, they do very well with the Indian climate and they don't get sick very often compared to foreign breeds.
If you want to know more about Indian breeds, I've written an article about that here.
2. Pomeranian
Pomeranian is one of the most popular dog breeds in India so they are easily available to buy.
But maintaining them could be a little expensive because they shed too much, so frequent and proper grooming is required which might cost you some money.
A pomeranian may cost you somewhere between 3000-7000 INR.
3. Labrador
Labrador dogs are highly popular in India because of the cute looks and it's friendly temperament.
This dog is very cheap and easily available in the pet market because of its high demand.
There is no high grooming required for this dog, basic brushing is enough.
Also, these dogs don't require frequent bathing.
So, the cost of maintaining this dog is comparatively a little less compared to other ones.
A labrador puppy can cost from 5000-10,000 INR or more.
4. Rajapalayam
Another Indian dog breed which is rarely available in India rarely and also becoming extinct.
This dog breed is not very popular like other dogs now but it used to be very popular during Nayankar Dynasty.
Kings used to breed these dogs because they were great at guarding and hunting.
A Rajapalayam dog can cost you from 6k-8k and in some cases even 12k
These may even available for free so more people can adopt this dog.
5. Dachshund
Dachshund is a small-sized breed dog that has unusually small legs.
This dog has a unique look which is attracting a lot of people in India lately.
They are small-sized breed dogs and they don't shed much so the grooming cost will be very little.
Dachshund Dog price in India is between 8k-10k INR
6. Great Dean
Great Dean is a foreign breed dog and one of the friendliest one out there.
A fun fact: The popularity of this breed aroused from the famous cartoon character Scooby-Doo which was also a Great Dean.
These dogs look big but they are very gentle and friendly temperament, they get along with people easily.
A Great Dean dog costs between 7000-15000 in India
7. Caravan Hound
Caravan Hound is another Indian Dog breed which originates from Karnataka (India).
These dogs are not generally very friendly towards are strangers so handling them could a little tough for new pet owners.
But they have great hunting skills which make the perfect ideal guard dog.
These dogs are available in the price range between 8k-12k INR
8. Rottweiler
Rottweilers are one of the aggressive and strongest dog breeds after Rajaplayam Dog and also make great guard dog for your family.
Rottweilers are orignated from German but they do very well in Indian climatic conditions.
They do well with the family and also very protective of them.
Other temperament of this dog breeds are: Obedient, Steady, Fearless, Alert, Confident etc.
If you are looking for a good watch dog Rottweiler is one the best choices you have.
A Rottweiler Dog may cost you between ₹8,000-₹25,000 but depending on the quality of the breed it way cost even more than that.
Dog Price In India List (Price Range ₹15,000 – ₹25,000)
If you have a slightly higher budget than you can consider these following dog breeds:
1. Golden Retriever
Golden Retrievers are popularly known for their Pedigree Food Ads.
They are great guide dogs for someone who is blind, they are very intelligent, kind and friendly temperament.
They are also very easy to train.
But they are prone to some hip diseases so you to properly examine and should purchase from the authorized pet shops.
A Golden Retriever Price In India would range somewhere somewhere between 15000-20,000, but in some cases, it might cost more.
2. Pugs
Pugs or some might say Vodafone Dog is one of the popular dogs in India right now after Labrador.
These dogs are extremely lazy and spend most of the time just sleeping but are cute.
They almost never bark at all just like Labrador, they are very kind, playful and perfect for children.
The cost of a pug is generally between 20k-25k, but you can also get it cheaper in some pet shops.
3. Beagle
Beagle dog breeds are generally known as a smaller version of foxhounds.
These dog breeds are small in size/height that makes them look cute and the primary reason for their popularity.
They have a sense of smell but they won't make a great guard dog.
Beagles are great family pets and get along well with the members of the family
And also they have fewer health issues compared to other dog breeds which may save you some money from frequent vet visits.
A beagle puppy costs in the range of 18k-20k INR.
4. German Shepherd
If you are looking for a great guard dog for your home then German Shepherds are one of the best ones for you.
They are easily trainable and very obedient compared to other breeds
They are very affectionate towards their owners and also do well with other dogs if they are properly
Shedding is one issue in this breeds so grooming is required.
German Shepherd can cost around 25k-80k
5. English Cocker Spaniel
English Cocker Spaniel dogs are amiable and easy-going pets.
They are very close to their owners and always crave for a human companion.
This small-sized cute looking furry dog breed is perfect for any family.
These dogs require daily brushing and grooming due to their soft coat.
An English Cocker Spainer Dog can be available in between the range of 14k to 20k.
6. Shih Tzu
Shih Tzu is a Chinese Dog Breed as you can figure out from the name itself.
And just like any other small dog breeds, they make a great family pet.
They are incredibly kid-friendly and playful.
They can't tolerate hot weathers, so it is advisable if you live in a place with extream heat then you should not go for this one.
Shih Tzu is available in India in between the range of 22k-25k
7. Pitbull
Pitbull is an American breed and has a reputation of being violent, but just like any other dog its temperament depends on the dog owner and the environment that it was brought up in.
Pitbull dogs can be the sweetest if trained and treated right from the puppy stage with proper socialization.
They are protective good family dogs and are friendly with children.
Some of the advantages of Pitbull is that they are low maintenance and healthy dogs, they very less prone to diseases.
There is a misconception that Pitbulls are banned in India which is not true.
A Pitbull may cost between 20,000 – 80,000 depending on the quality of the breed.
To know more about pitbull and its price in different states in India then you can refer to the article here
8. Dalmatian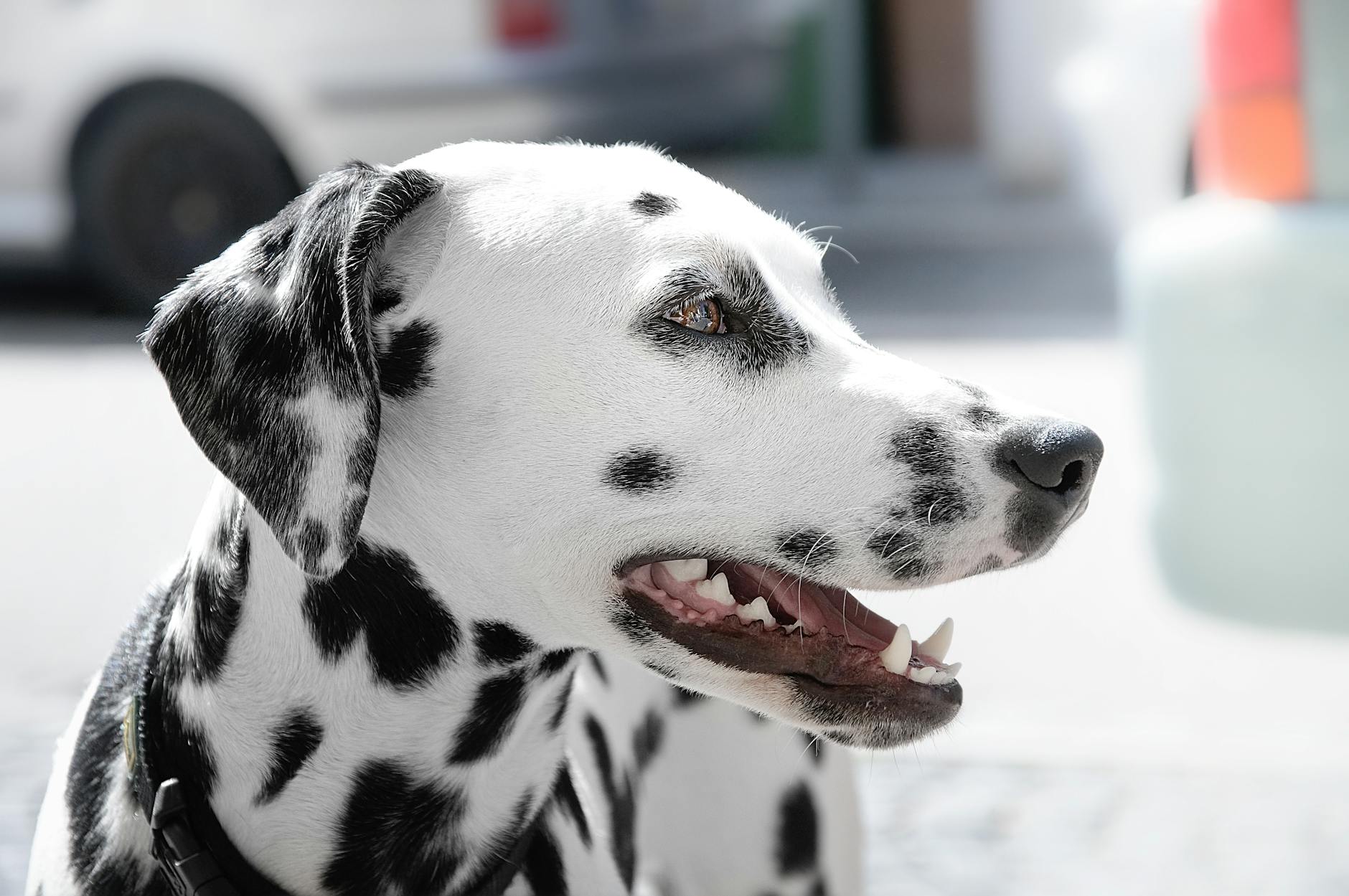 Dalmatian is popular for their beautiful spotted coat. The name Dalmatian came from their native region Dalmatia.
They have rectangular bodies which makes them look long rather than tall.
The popularity of this breed rose from the Disney movie/series Dalmatian 101.
One fact about Dalmatian is that they are not born with spotted coats, they are completely white when born the spots appear after they are 2 weeks old.
About the temperament of Dalmatians they are friendly and active which ideal for a family pet.
Since they have short coat grooming is not much of an issue.
One can buy a Dalmatian puppy between in the range of ₹20,000-₹27,000
9. Poodle
Poodles are mostly found in Germany and France. You may have seen this breed in Hollywood movies.
The curly fur of this breed gives this breed quite the unique and appealing look.
This breed likes playing in water. Thus, the name poodle which is derived from the German word "pudle" which means "the one who enjoys water".
In France, they are called caniches, which means "duck dogs".
They may look small and goofy but they are quite intelligent and trainable which makes it one of best family dogs.
A Poodle can range in price from 40,000 to 70,000
Recommended Items For Dogs In India (With Price)
Being a dog parent comes with a great responsibility of providing the pet with the best lifestyle that it deserves.
So when you get a dog it automatically becomes your duty to take care of it as your own baby and to make sure that your dog is perfectly fit and healthy.
You have to bath them regularly, groom them, take them for a walk.
And for a new dog parent it could be really confusing and overwhelming to handle these responsibilities.
It is always advised that you should a proper research before you get a pet so that you don't end up making mistakes which you will regret.
You can read read book like dog training books like Dog Syqling to get yourself fully trained and get familiar
So we at petriever, would recommend making sure that you have these following essentials ready before you decide to get a pet so that you can provide a comfortable environment and life on the first day itself.
Image
Title
Prime
Buy

Top

Royal Canin Maxi Starter, 1 kg

Prime

Eligible

Buy Now
Meat Up Chicken Flavour , Real Chicken Biscuit, Dog Treats -500g Jar ( Buy 1 Get 1 Free)

Prime

Buy Now
Royal Pet 24-inch Iron and Plastic Cage with Removable Tray for Dogs and Rabbits (Blue)

Prime

Buy Now
Foodie Puppies Dog Grooming Plastic Auto Slicker Self Cleaning Hair Brush for Dogs & Puppies - Color May Vary

Prime

Eligible

Buy Now
Senapati Dog Neck Collar Belts and Leash Set (Red Color, Waterproof, Medium, Leash Size 1.5M-2M)

Prime

Eligible

Buy Now
Himalaya Erina Coat Cleanser, 450 ml

Prime

Eligible

Buy Now
Pets Empire Stainless Steel Dog Bowl Medium (Buy 1, Get 1 Free), 700 ml

Prime

Eligible

Buy Now
Gorgeous Soft Reversable Dual Bed for Dog and Cat (Brown and Cream, Small)

Prime

Eligible

Buy Now
The Dogs Company Natural Rubber Spiked Ball Dog Chew Toy, Puppy Teething Toy, 3 Inches

Prime

Eligible

Buy Now
Foodie Puppies 3 Pcs Soft Cleaning Dental Rubber Finger Toothbrush for Dogs (Color May Vary)

Prime

Eligible

Buy Now
Prices and images pulled from the Amazon Product Advertising API on:
Dogs Price In India List (Price Range ₹30,000- ₹1 Lakh)
Dogs which cost more than 40k are generally imported ones and rarely available in India and maintaining them is an extremely tough job because they aren't capable of coping with Indian Climate.
The following is the list of dogs which cost more than 30k.
1. Maltese Dog
Maltese Dogs are not so popular in India; they may look similar to Shih Tzu, but they are different.
They bond with the family very well and hates being left alone.
They are not perfect for cold weather.
One can purchase a Maltese Dog in India between 50k-60k
2. Tibetian Mastiff
It's a huge breed dog and it's not suitable for novice pet owners because they are very huge in size and they don't easily obey commands.
These dogs are used for high-security purposes.
Training them is both expensive and hard.
The price of Tibetian Mastiff could be around 40k-60k
3. Husky
Huskies are thick-coated dog breed which originates from Siberia.
This dog is very well known and one of the most loved dogs in India because of their blues eyes.
But you shouldn't own this dog unless you live in a place where it frequently snows, (mostly northern region of India).
Huskies can't tolerate hot weather due to their thick coat.
One can buy a Huskey between the range of 40k-80k depending on the quality of the dog.
4. Akita Inu
Akita Inu is a Japanese Dog Breed which is very popular there.
This breed got famous in Japan because of the story of Hachiko, a loyal dog who continually waited for his master for 10 years who didn't come back because the master died while teaching in a University.
If you have seen the movie "Hachi: A Dog's Tale", you would be familiar with this.
These dogs were initially bred for hunting, but now they serve as companion dogs in Japan.
An Akita Inu puppy would cost in between 80k to 1 lakh or even more.
5. Samoyed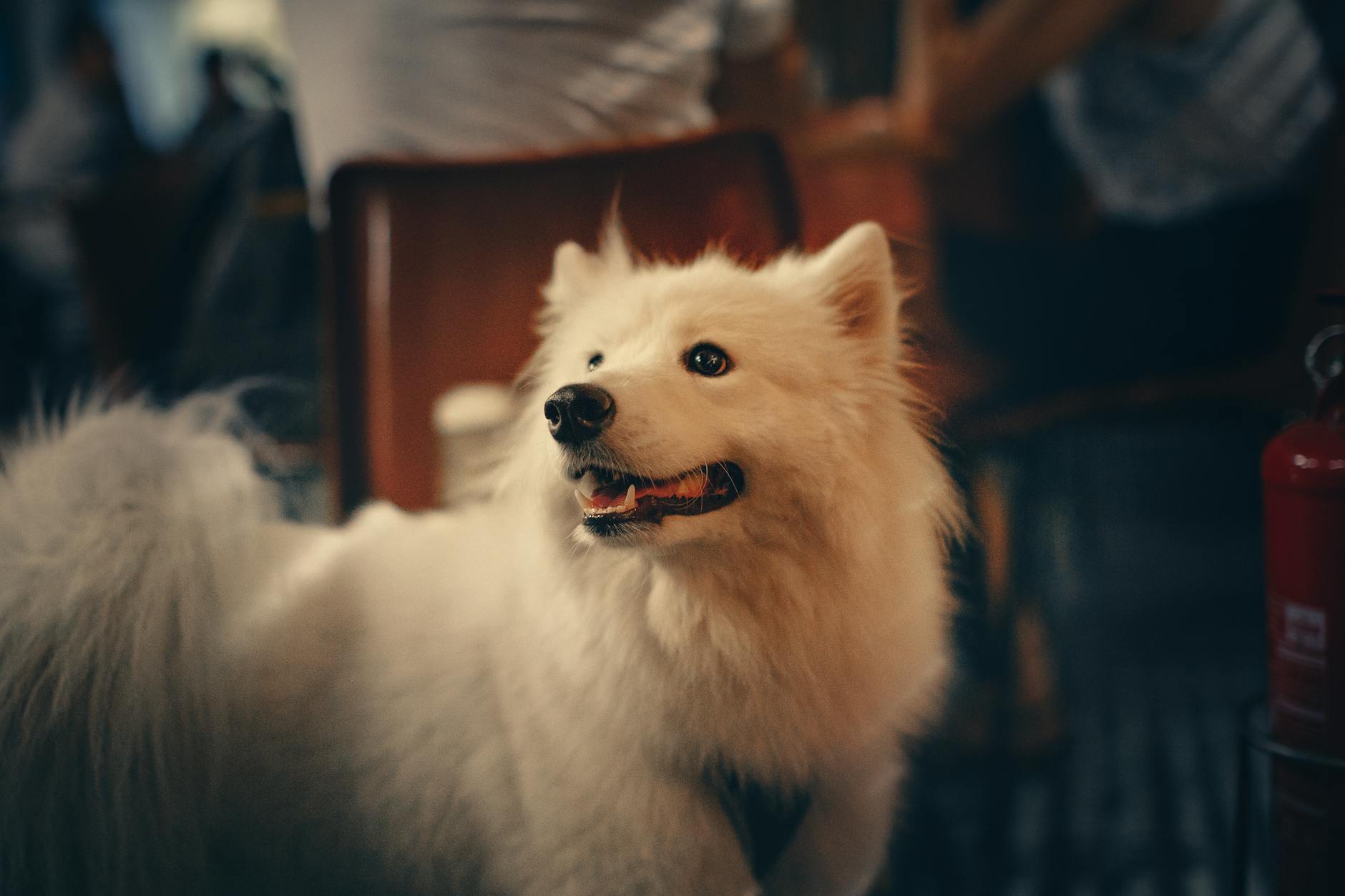 If you actively follow some dog page accounts on Instagram you might've come across this breed for sure.
Many would confuse this with a Pomeranian or Indian Spitz.
They are also thick coated just like Husky so likewise they are only completable for cold weather and not so suitable for Indian one.
Samoyed puppy could cost between ₹3,000,00- ₹6,00,000
Conclusion
These so these were the list of dog price in India that are available for purchase.
Most of the dog breeds mentioned here are imported ones and not native to India, so they are not much competent for Indian climate.
Our Indie dogs are much better in that case.
So, my advice would be to go for Indian dog breeds or adopt them from your nearest dog shelter if you don't have the budget to buy one.
But if you still want to go for imported dog breeds, please do the proper research before you buy one.